Tue 29 Dec 2009
Posted by Brian under
Uncategorized
Comments Off

on Introducing "Miles" – Our New Addition!!!
Brian's mom, Sue, found an adorable, though severely starved, weak, and frost-bitten, puppy on December 12 (coincidentally, Brian and Amanda's 7 year wedding anniversary) far removed from houses and Silver City. Sue took great care of him for about 2 weeks, but found that she was unable to care for him for he was wearing her out! So, as a Christmas present to all of us, Brian and Amanda adopted this cute lab/pit bull puppy to keep Ciara (their lab/pit bull) company. We named him "Miles" as he was miles from nowhere, and miles from "home". He is 6-8 weeks old, male, mostly black with some white on his chest like Ciara, and was 7 pounds on December 12. He is gaining weight, and the hair on his tail and ears is growing back – it had all fallen out due to frostbite. Below are some pictures.

Miles on December 12, newly rescued and extremely hungry. Sadly, you can see his backbone, ribs, and hip bones due to his lack of food.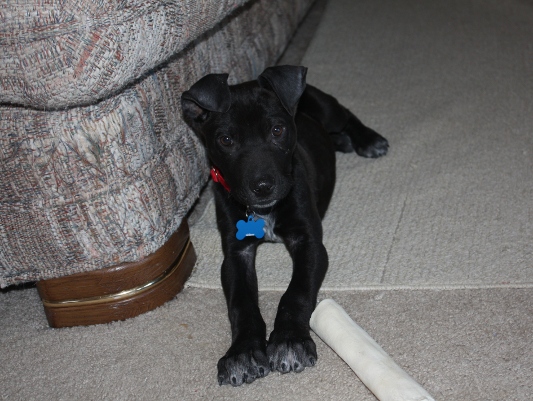 Miles at Brian and Amanda's house.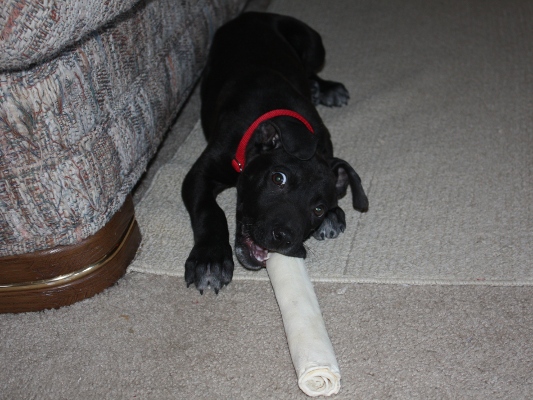 Miles at Brian and Amanda's house, tackling a rawhide almost as big as he is.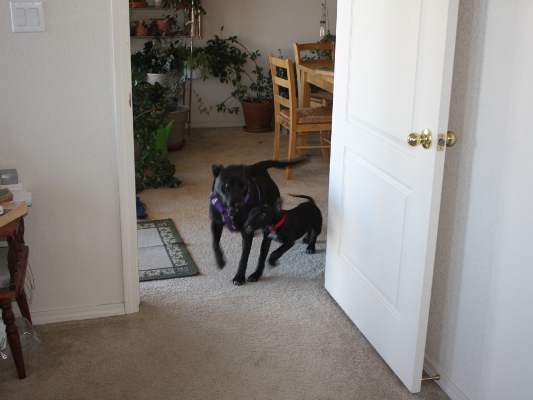 Miles and Ciara running through the house.